How Can Marketing Automation Help with Lead Generation and Conversion?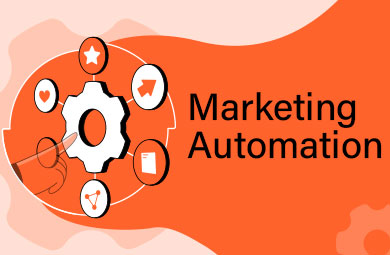 The importance of marketing to your business cannot be overstated.
You can't spend all your time marketing. Is there a way to simplify things? Is it possible to automate some of these repetitive tasks or even do away with them altogether?
Here is where Marketing Automation come into the picture.
A growing number of Companies in every industry are adopting marketing automation. By reading our article, find out how it can help you increase your lead generation.
In the past, marketing was limited to newspaper ads and radio commercials. Additionally, marketing has moved beyond the stage where it is only done by a few "creative and intuitive experts" who organize seminars and long sessions to convert leads.
With the level of technology, we have today, marketing has gone beyond the scope of offline strategies or traditional digital marketing. The advent of marketing automation tools and software has changed how we strategize and execute our marketing activities in a huge way.
In this fiercely competitive online market, marketing automation has proved to be a very useful tool for numerous businesses, and it can do the same for you. In any marketing campaign, the ultimate goal is to convert leads into sales.
Before we dive in to know how marketing automation can help with lead generation, let's understand what Marketing Automation is all about.
What is Marketing Automation?
It is the process of automating marketing campaigns all through the buyer's journey, from initial customer interactions to post-sale support, using software.
Importance of marketing automation
Let's discuss how marketing automation can benefit your business. A software system that automates processes or systems is known as an automation system.
In essence, marketing automation can improve the efficiency of your marketing department and streamline your marketing efforts.
Efficiency
Marketing automation improves the efficiency of your entire department in the first place. Reducing staffing costs can free up your team's time to work on more strategic and important tasks.
Marketing automation software can automate the process of posting on social media every day, rather than having to do so manually.
As a result, your team can do more creative work, like planning and brainstorming.
Using an automation platform will also simplify your team's tasks. This software allows your staff to create social media posts, email nurturing campaigns, blog posts, landing pages, and email nurturing campaigns all with the same piece with the same software. This saves your team time when creating campaigns.
Marketing and sales alignment
You can align company goals and efforts by combining sales and marketing automation software.
It'll make it easier to go from marketing-qualified leads to sales-qualified leads.
In fact, marketing automation may boost sales productivity by 14.5% and cut marketing overhead by 12.2%.
In addition, it can increase sales and lead generation. This way, your marketing team will be able to spend more time strategizing ways to increase conversion rates, while your sales team will be able to increase productivity.
Increase conversion rate
With marketing automation, your team can also be more effective.
Your conversion rate can be increased and leads can be managed more effectively with marketing automation.
With marketing automation software, you will be able to track your leads, and you can even use it to retarget the people who visit your website but fail to convert, increasing your conversion rate.
Your team will have more time to analyze your marketing strategy and consider how to convert visitors with marketing automation.
Accurate Reporting
Analytics reporting can seem daunting, but marketing automation platforms make it easier.
Your software should be able to generate automated reports for you. A cumbersome task is suddenly simplified.
A marketing automation platform can also give you a high-level overview. It will help you identify friction points and complications. It's easy to see where things go wrong with accurate, streamlined reporting.
When you send lead nurturing emails, do leads drop off? Is it during the sales process? In either case, accurate analytics will help you spot those points and fix those points.
Marketing strategy tailored to individual needs
Through segmentation and reporting features, marketing automation software allows your team to create more personalized content as they spend more time creating instead of entering data manually.
The use of marketing automation allows you to target your persona across a variety of channels. Using social media, search ads, or email campaigns, you can reach them.
What role does marketing automation play in this?
When you segment your leads based on their characteristics or behaviour, marketing automation can turn your web visitors into leads.
If someone has read a post about sales conferences, then the entire lead nurturing process needs to be personalized. Perhaps your lead nurturing email invites them to a sales conference that your team is hosting.
You can track their engagement and send them personalized messages. Lead scoring will also be improved.
Lead scoring
Lead scoring can be set up in marketing automation software to notify your sales team when a lead moves from marketing qualified to sales qualified.
In other words, this is a sign that you're marketing, and sales teams are better aligned. Moreover, it automates the process, making it easier for you and making sure that it takes place in real-time as well. As a result, no time is wasted and your sales team can begin contacting prospects right away.
Data Management
Marketing automation platforms keep track of your leads and their engagement.
Data management has never been easier. In addition, it automatically updates your data so that you do not have to worry about it.
Scalable Processes
It's important to keep scale in mind when setting up marketing systems. Are you able to grow with this process? Your company will have difficulty expanding if it's not scalable.
With marketing automation, you will be able to create scalable processes. The more manual a process is and the more it depends on one person, the harder it is to scale.
Lead nurturing
Lastly, marketing automation facilitates lead nurturing. The purpose of marketing automation software is to create drip email campaigns and track their effectiveness.
It's harder to convert leads into sales prospects without lead nurturing.
Best Marketing Automation Tools
Listed below are a few marketing automation tools to help you sort through your options and make the best choice for your business.
HubSpot Marketing Automation

ManyChat

Moosend

Omnisend

EngageBay

Ontraport

SendinBlue

ActiveCampaign

Salesforce Marketing Cloud Account Engagement

Keap

Ortto

Marketo

GetResponse

Drip

Mautic
What is the most effective way to generate leads for your business through digital marketing?
Today, every business can achieve a tremendous amount of brand awareness, thought leadership, and sales thanks to digital marketing.
Marketers can increase conversion rates by executing successful marketing campaigns that attract potential customers.
India's digital marketing companies are currently considered the most effective approach, since they leverage data-driven marketing to drive results, resulting in maximum performance and return on investment.
In order to maximize your lead generation, here are a few strategies you need to follow:
Content Marketing

Content Marketing

Running A/B Tests

Paid Advertising

Email Marketing

Email marketing strategies to generate leads

Conduct keyword research to locate the right keywords to target
How Does Marketing Automation Help with Lead Generation?
With personalization and relevance, your lead generation strategy can be more successful, and marketing automation can help. Creating content that addresses the reader's pain points is one of the keys to success.
Automation replaces manual processes, allowing you to identify the most relevant and valuable leads and engage them. Additionally, it replaces manual tasks marketers are unable to perform at scale with the necessary precision, such as delivering content in a variety of formats. In terms of efficiency and speed, marketing automation platforms are a great tool. When the right tasks are automated, brands with smaller marketing teams can outperform those with more resources.
Customer retention and lead generation are essential for the survival and growth of any business. As a result of knowing how good your product or service is, repeat customers often buy more of it. There is no doubt that customer retention is as important as lead generation for the survival of most businesses. It's a great way to focus on customer retention at no extra cost. A follow-up email that is automated intermittently can help convert existing customers into new leads by using analytics that can predict what customers are likely to buy based on their previous purchases.
Market automation is the key to generating new leads for your business.
---
Add New Comment:
Comments
Other Blogs