The 7 Best Ways to Know Your Customers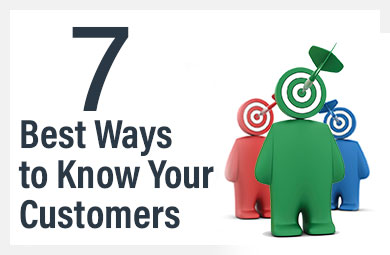 What steps would you take when you at your company start creating new content, update the functionality of a product or service, or launch a campaign?
The first thing you should do is consider your customers, including who they are, what challenges they face and how your product or service could help them.
Knowing your customer allows you to make sure that the products you sell and the content you create consistently speak to them, which will increase conversions and strengthen client loyalty.
Getting to know your customer will help you convert more leads into paying customers and improve your customer retention.
Continue reading the blog to find out more about the Best Ways to Know Your Customer.
Before we learn about the best ways to know your customers. Let's take a look at: "How important is it to know your customers?"
The more you understand who these people are, the better you can tailor content to their needs, provide them with specific types of support and services, and ensure you will be able to resolve any challenges they may encounter.
Knowing your audience will increase the likelihood that all of your efforts will be appreciated by the leads and customers who are significant for your success. This is how you develop enduring relationships between your audience and your company, as well as a sense of brand loyalty and advocacy over time.
Let's now look at 7 best ways to know your customers better.
Analyse Recent Data and Analytics
Review the recent information you have already gathered about your customers to start getting to know them better. This includes each pertinent analysis of your customers that your company has conducted since you started doing business.
For instance, in case you have already conducted an analysis in which actual customers discussed their opinions of your goods or service. This gives you a place to start when learning more about your audience because you already have a basic understanding of the problems and difficulties they actually face and what they need from your product or service.
Think about the additional audience-related data you still need to collect after that. To get answers to much more specific questions you have for your audience members about your products or services, you might, for instance, design and distribute a survey for them.
Inspect The Prior Successes Among Your Customer
Don't overlook what your customer are currently looking for in terms of your products, services, customer support, and marketing efforts when conducting audience research.
This useful data reveals the ongoing demand for your product or service from your target market and the factors that make them happy with their interactions with your company (e.g., your marketing, customer service, and product development). When making decisions that affect your audience as your company expands and your product or service changes, keep these accomplishments in mind to make sure they're advantageous and required.
Create Buyer Personas
If you don't already have them, develop buyer personas next. You can comprehend the requirements and preferences of your target market and clients by using buyer personas. As a result, you'll be able to sell to your target audience more successfully, and they'll help you develop new products or services.
You will be able to better understand the many reasons why the people in your audience need your product or service, how to target and convert them, and how to build enduring relationships with them as a result of creating buyer personas. Additionally, buyer personas aid in keeping your entire company, across teams and functions, focused on your target market, increasing your chances of connecting with them.
Conduct Surveys
Surveys are a further way to learn more about your audience. In-depth responses to questions you have for your audience about your goods or services, marketing initiatives, customer service, and more are often obtained through surveys.
Using surveys, you can find out more about your audience's needs and wants, the efforts they already like, and the things they think you should focus on (and why) by asking them general questions and for specific information. Additionally, surveys are great because you can choose to make them anonymous, which frequently encourages participants to be completely honest. As a result, you get the real information and outcomes that matter.
Using a customer feedback and survey software is an easy way to accomplish this. Whether you want to administer forms and surveys about loyalty, satisfaction, support, and experience, this kind of system streamlines the processes of creating and managing customer feedback forms and surveys, as well as collecting and organizing their results in one place.
Monitor your competitors' activities
Your success depends on keeping a close eye on your competitors in all facets of your business. This enables you to comprehend what your competitors are and aren't doing well, how they're focusing on the same audience, and what the members of that audience are and aren't responding to. This will help you decide how to reach your audience in a way that is efficient and particular to your business, all while saving your time.
Observe The Opinions, Remarks, And Interactions of The Audience
When you observe someone's behaviours and movements over time, you can learn a lot about their likes and dislikes, their routines, where and how they get support, and more. Your audience members are no different.
The comments and interactions on your blog, customer support channels, community web pages and forums, and social media profiles should all be tracked over time to gauge audience sentiment. This will enable you to immediately address the most pressing problems and maintain the elements that are benefiting your audience by letting you know which positive and negative experiences many of them consistently have.
Try Out New Updates and Content for Your Products and Services
Last but not least, experiment with your content and updates to your products and services to learn more about your audience. As your business expands and develops new product or service offerings and features, testing out new ideas among audience members is a great way to assess whether your company is effectively evolving with your audience.
For instance, perhaps your marketing department proposes a strategy to connect with your audience through a totally new channel, or perhaps engineers have ideas to improve certain aspects of your current good or service. Take action and observe how your audience responds to these changes if you believe these plans to be workable and worthwhile.
You and your team might be on to something that increases the amount of resonance you already have with your audience and boosts retention rates. Perhaps you discover something merely doesn't work for your audience, in which case you can now forego investing in changes of the same nature in the future.
Identify Your Target Audience
The process of getting to know your audience isn't always easy, but it is important. As a result, you'll create products that your buyer personas and target customers want to buy and share content that resonates with them.
You'll also convert them to long-term, paying customers who'll become loyal brand advocates. Start working through these steps right now to gain a deeper understanding of your audience and begin reaching the people who matter most to your success.
---
Add New Comment:
Comments
Other Blogs